Fun activities for senior citizens help you keep the good times rolling well into the golden years. Whether you're a healthy retiree or a nursing home resident, there are activities that will suit your needs.
Fun Activities for Independent Seniors
When looking for fun activities for seniors, there's no need to reinvent the wheel. An activity doesn't have to be labeled "for seniors" to be enjoyable. Thinking through the things you love most or that you've always dreamed of doing will give you a good starting point in finding the best activities for your lifestyle.
Outdoor Activities
Enjoy fresh air and the wide blue sky? The sky's the limit for active seniors! Before you embark on any new exercise regimens or physical activities, get your physician's approval.
Back to nature activities: Fishing, gardening, and hiking are fun activities at any age. While you're at it, broaden your horizons and try birdwatching.
Letterboxing: Never heard of letterboxing? It's a fun outdoor activity that combines hiking and treasure hunting. Learn more about it at Letterboxing North America.
Sports: If you have your doctor's approval to play sports, break out the golf clubs, soccer ball, or tennis racket and get playing. You could join a senior league or simply play with friends at the local park, recreation center, or YMCA.
Exercise: Although it may sound like more work than play, exercise can be great fun or amazing relaxation, depending on the type you choose. Try water aerobics, walking, yoga, or Tai Chi.
Photography: Digital cameras are remarkably easy and offer instant gratification. Simply point, shoot, and see the picture.
Scavenger hunt: Set up a scavenger hunt with a friend or try geocaching.
Grow your food: Try your hand at gardening, but not just any old gardening--grow your food. It gets you outside, you know exactly where your food came from, and it's good for the environment too.
Rent a kayak: If you love an adventure, try renting a kayak to explore the water. Some companies offer special trips and discounts for senior citizens.
---
Indoor Activities
If you're looking for some down time, or simply need something to do on a rainy day, try some of these indoor activities:
Scrapbooking: Gathering your photos and mementos together in one place is a fun walk down memory lane. Even better, it helps you organize your treasures.
Journaling: Try writing your thoughts down in a book for emotional therapy or as creative exercise. Who knows? You might even discover a hidden talent for writing. Maybe the next great American novel is hiding in your head!
Tap dancing: Who says indoor activities have to be sedentary? Put on those dancing shoes and boogie!
Breakfast, lunch, or dinner club: Gather a group of friends and meet on a regular basis for meals and good conversation.
Jewelry making: Even if you're a beginner, it's easy and fun to string beads onto cord to make necklaces and bracelets. After you've mastered the basics, you can expand your skill set.
Zumba Gold: If tap dancing isn't your thing, but you still love dancing, sweating, and burning calories, try Zumba Gold. Zumba's a high energy Latin-inspired dance workout, and the Gold variety was designed with seniors in mind. You can find these classes at gyms, community centers, and dance schools.
Take a computer class at your local college or university: Find out what the big deal is with social networking, how to burn CDs, how to purchase the best computer, and more.
Work on your memoir or learn to write poetry: You can locate how-to books at your local library or book store or enroll in a class that will teach you the basics and get you started.
Enjoy a wine tasting: You may have always found yourself too busy to travel out to a vineyard to enjoy comparing wines, but now's your chance. If you're part of a couple, turn it into a romantic getaway by checking into a bed and breakfast. If you don't want to travel, invite some friends over and have a wine tasting party of your own.
Activities for Residents of Nursing Homes or Assisted Living Facilities
When planning activities for seniors in a nursing home or hospital setting, you must remember to take their physical and mental health into account. Nothing is more demeaning than being asked to play childish games if you have your wits about you. Likewise, little is more frustrating than being expected to take part in mental tasks if your thought processes are diminished.
If the seniors in your facility are mobile, some of the above activities may be adapted for a group setting. For seniors with mobility issues, try the following: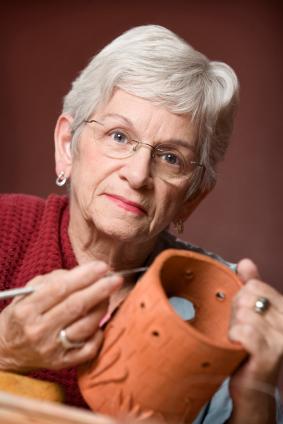 Book club: Organize a book club for the seniors. Offer refreshments and engaging conversation, and your book club is sure to be a hit.
Concert night: Have a local choir or scouting troop perform for the residents. Even better, pass the microphone around for karaoke night.
Pottery and working with clay: Shaping clay provides exercise for the hands and it also offers a stimulating sensory experience.
English tea party: If you have access to a garden, let the seniors have tea outdoors. No garden? Simply improvise by decorating with real or artificial flowers.
Celebrate birthdays: Have birthday parties to celebrate the lives of the residents. Don't worry about gifts, but have snacks, music, and maybe even a few party favors. Depending on the number of residents, you may want to have one birthday party per month and celebrate several birthdays at once.
Invite local choirs to come in and sing: You don't have to wait for the holidays. Ask local choirs if they'd like to come in to give a short performance. They can practice for competition while the seniors get to enjoy music and sometimes dancing.
Get them outside. Even if it's just for a lunch, try to take the seniors outdoors for a little while on particularly nice days.
Do the Things You Love
Now is the time to do the things you love. You'll need to do some brainstorming to figure out which activities would make you the happiest, and don't be afraid to explore new things.
---
Article originally posted here: http://seniors.lovetoknow.com/Fun_Activities_for_Senior_Citizens on